In the last three months, it was not possible to register new accounts on yax.im. This issue has been resolved now.
On 2016-07-27, the service was upgraded to the experimental prosody 0.10 branch, to allow support for XEP-0313: Message Archive Management and for its better MUC implementation.
Unfortunately, the upgrade also introduced prosody bug #724, where a logic error causes new user registrations to fail, except for spammer accounts. Because the yax.im admin was not aware of this and failed to see the signs of stagnation as well as angry user reports, it took over three months to find and fix the issue. Sorry!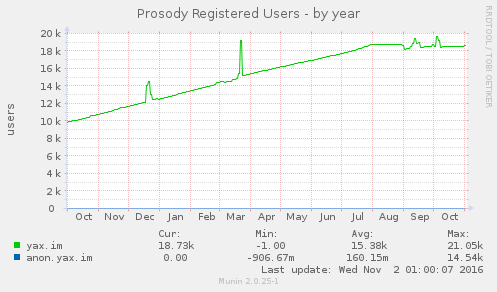 The good news is: yax.im is accepting new users again! If you are running yaxim and your registration attempt has failed, please uninstall & reinstall the app or clear the app data to perform a new registration.